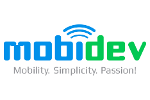 MobiDev
MobiDev is focused on innovation and complex software development services in the era of digital
transformation:
Industrial IoT & Augmented Reality
Data Science & Machine Learning
Blockchain & distributed databases
Microservices & cloud infrastructure
Native mobile & desktop development
Cross-platform solutions
Over its 8 years of existence , MobiDev created and delivered more than 320 products, bringing
innovation to enterprises and emerging companies around the world. The headquarters of MobiDev
are located in Atlanta (USA) and Sheffield (UK). 3 development centers are located in Ukraine.
250+ English-speaking professionals provide regular guaranteed delivery owing to our transparent
and sustainable approach.
We make software development easy for our clients, so that they are able to concentrate on the rapid
growth of their business.