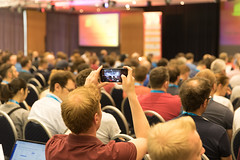 This year's keynotes have been as diverse as the world of Web Development itself. From HTML Treasure Hunt to PHP goes Hack migration to Social Enterprise—there is a video for everyone!
3 Days –  3 Keynotes
For everyone who may have missed them at the conference in Berlin and for those who want to see them again: We are happy to provide you our keynotes videos today. Hurl yourself into HTML adventures, learn how to replace PHP with Hack and if it was worth it and help planting a tree with your internet search. Happy watching!
Day 1: How to make Loveliness: an HTML Treasure Hunt – Bruce Lawson
Day 2:  PHP to Hack, an incrementally typed Adventure at Slack – Scott Sandler
Day 3:  Web with Sense: How to build a Start-up that is not only profitable, but also improves the World – Christian Kroll