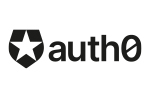 auth0
Secure access for everyone. But not just anyone.
Whether you're a developer looking to innovate or a security professional looking to mitigate, we make identity work for everyone.  
Auth0 provides a platform to authenticate, authorize, and secure access for applications, devices, and users. Security and development teams rely on Auth0's simplicity, extensibility, and expertise to make identity work for everyone. Safeguarding billions of login transactions each month, Auth0 secures identities so innovators can innovate, and empowers global enterprises to deliver trusted, superior digital experiences to their customers around the world.
For more information, visit https://auth0.com or follow @auth0 on Twitter.